"Children are not a distraction from more important work. They are the most important work" – C.S. Lewis
In upper elementary, students are still intensely curious. They are beginning to ask deeper questions and are more intent on understanding the world around them. More importantly, they are beginning to understand Who God is and the story he is telling through their lives.
In upper elementary, our classes are intent on helping students to see how each subject and artform points back to God. Our classroom is creative, integrative, hands-on, and bibilically centered. We focus on developing a love of learning, curiosisty, and creativity and helping each student see how every subject, time-period, art form, and personality is part of the greater story of God. At the end of upper-elementary, comes the transitional year of 6th grade.
In 6th Grade, we are intently focused on developing students acaedmicly so they are prepared for Jr. High, relationally as their friendships become more important, and spiritually as they begin to own their faith.
OUR CURRICULUM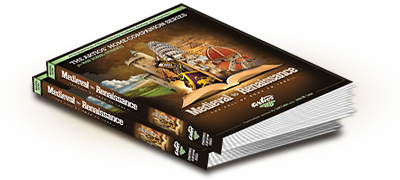 Our curriculum is unique. All subjects are integrated by historical time period. This allows students to that what they are studying is not alienated from other subjects or real life, but is interconnected and part of one giant story that God has been telling since Genesis 1:1.
ARTS AND ACADEMICS INTEGRATED INTO ONE-SEAMLESS CURRICULUM.
Upper Elementary students can take two programs at Artios: The Academy of Arts and History, and the Artios Preparatory program. By enrolling in these two programs, you are offering your student the opportunity to take a hands-on, creative, and integrative approach to arts and academics.
Developing a love of learning through exploration!
Academic subjects in Reading, Math, Science, and History!
Arts subjects in Music, Art, and Drama,
Bible reading and character formation.
ACADEMY OF ARTS AND HISTORY (ARTS)
The Artios Academy of Arts and History teaches four core courses (history, drama, art, and music) within its weekly class days. All four courses are integrated with each other by historical time period. We teach these subjects in their entirety, which allows students not only to have knowledge of facts, but also to have knowledge of the principles and purpose of the subject. All four subjects are taught in a hands-on, creative, and integrative way, all while being taught from a biblical worldview.
PREPARATORY (ACADEMICS)
4th Grade Preparatory
In the 4th Grade, prep students take four classes, all with the same teacher. They take Math, Science, History, and English Literature. All classes are integrated through aa historical time-period.
This is the beginning of transitioning from lower elementary to upper elementary. The classes are hands-on, creative, integrative, and graded. Teachers give assignments for students to complete throughout the week.
Students must take all four classes.
5th Grade Preparatory
In 5th Grade, students and parents are able to take academic classes a-la-carte. There are four classes available to 5th-grade students, Math, Science, History, and English Literature. All classes are integrated through a historical time-period.
6th Grade Prep (The Transition Year)
6th grade at Artios is a bit different. We don't view 6th Grade as Elementary or Jr. High School. Its a transition year from elementary and into middle school. At Artios, all 6th-grade students are put together in a "cohort". Here, they focus on building relationships, mastering the curriculum they've learned in elementary school, and are ramping up the level of their work and assignments to prepare for the rigors of Jr. High.
Classes are still incredibly hands-on, creative, and integrative. We focus not on memory of content, but an understanding of ideas and concepts. Students can take classes a-la-carte in Math, Science, History, and English Literature.
ARTIOS PLUS CLASSES
Artios Plus Clubs are extra classes designed to allow students to learn and explore deeper into a passion or interest.
Elementary Choreography Club
Elementary Choir
Elementary Drama Club
Elementary Art Club
MS Ddrama Club (Grades 6 – 8)
Jr. Film Club (Grades 6 – 8)
THE BEST TEACHERS
You will never meet teachers who are more passionate about instilling a love of learning and shaping young hearts than the upper Elementary teachers. All teachers are not only degreed and qualified to teach, but they also have a unique ability to connect with each student as the individual God created them to be.
5
UPPER ELEMENTARY TEACHERS
95
%
YEAR-OVER-YEAR STUDENT RETENTION RATE
100
%
TEACHER RETENTION RATE FOUR YEARS IN A ROW.